The 6th International Amateur-Pair Go Championship(I・A・P-Go Cup)
DATA
Date:

Nov. 11th・12th, 1995 (Sat・Sun.)

Venue:

Hotel Edmont

Participating Countries:

17 countries territories,32 pairs,64 individuals

Asia:

China, Chinese Taipei, Japan, Korea

The Middle and Near East:

Turkey

Europe:

Czech, France, Germany, Hungary, Netherland, Poland, Russian Fed., Ukraina, United Kingdom, Slovenia

NorthAmerica:

Canada, U.S.A.

Organizer:

Japan Pair Go Asociation, The International Amateur Pair Go Championship Executive Committee

Supervise:

International Go Federation

Supported by:

Ministry of Foreign Affairs,Ministry of Transport, Ageney for Culfural Affairs, Nihon ki-in, NHK, The YOMIURI SHIMBUN, SANKEI SINBUN Co., Led., NIHON KEIZAI SHIMBUN, INC, The Mainichi Newspapers Co.

Special Cooperation:

East Japan Railway, HITACHI, Japan Air-lines

Supported by:

JTB, Matushita Investment & Development, Hotel Holiday Inn Metropolitan Tokyo, Hotel Edmont, East Japan Marketing and Communication Inc., Obayashi Corporation, Japan Freight Railway, Tokyu Corporation, Japan Air System, Keihin Electric Express Railway, Tekken Coporation, Nippon Densetsu Kogyo, Tetsudou Kaikan, Higashi Nihon Kiosk, Ebara Seisakusho, The Fuji Fire & Marine Insurance Co.,LTD., Teito Rapid Transit Authority, JR East Urban Development Corporation, East Japan Railway Trading Co.,Ltd., Nippon Shokudo Co.,Ltd., NIPPON KOTSU BUNKA KYOKAI, NKB INC.

Planning and Administration:

NKB INC.,"La-LaLa" Planning

Cooperation:

East Japan Marketing and Communication Inc., Go Weekly, THE DAILY YOMIURI.
Championship Tournament:
The 1st Prize

HYO JIN KWUN(5dan),KYONG BO LEE(6dan), KOREA

The 2nd Prize

KAI HIN CHANG(4dan),CHIH HAN LIN(6dan),CHINESE TAIPEI

The 3RD Prize

YUKI IMAMURA(5dan),TAKASHI KUBONIWA(6dan)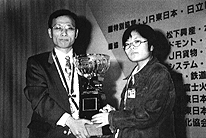 HYO JIN KWUN(5dan),KYONG BO LEE(6dan) VS KAI HIN CHANG(4dan),CHIH HAN LIN(6dan)