Organizers: Japan Pair Go Association / World Pair Go Association
Cooperation: The All-Japan Students Go Association
We are holding the 2nd World Students Pair Go Championship.
32 players (15 university student pairs and one high school student pair) from 11 countries and territories will be competing.
Lew & Choi pair (Korea)! Congratulations!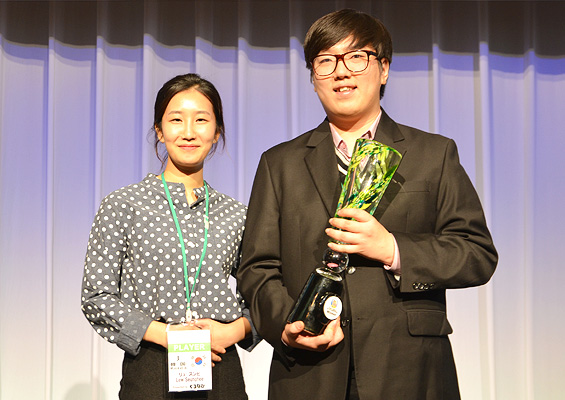 Live Broadcasts
Tournament Results
Rank
Country
Players
Players No.
1R
2R
3R
4R
Won
1
KOR

Lew Seunghee

(6-dan)
Soongsil University
3
Game
opponent
No.
6
2
4
16
4

Choi Inhyeok

(6-dan)
Myeongji University
Victory
or
Defeat
2
KOR

Jang Yunjeong

(5-dan)
Sehan University
4
Game
opponent
No.
14
1
3
13
3

Park Jongwook

(6-dan)
Myeongji University
Victory
or
Defeat
3
CHN

Zheng Lu

(6-dan)
Nankai University
1
Game
opponent
No.
7
4
2
12
3

Sha Xingyu

(6-dan)
Shanghai International Studies University
Victory
or
Defeat
4
JPN

Yu Konagai

(6-dan)
The University of Tokyo Secondary School attached to the Faculty of Education
16
Game
opponent
No.
10
12
13
3
3

Keigo Takashima

(6-dan)
Toin Gakuen
Victory
or
Defeat
5
JPN

Karin Tsukada

(6-dan)
Ritsumeikan University
15
Game
opponent
No.
2
11
8
14
3

Minoru Ozeki

(7-dan)
Senshu University
Victory
or
Defeat
6
CHN

Ouyang Yizhuo

(5-dan)
Shanghai University of Finance and Economics
2
Game
opponent
No.
15
3
1
5
2

Sui Zexiang

(6-dan)
Shanghai University of Finance and Economics
Victory
or
Defeat
7
JPN

Chihiro Akutsu

(5-dan)
Chuo University
14
Game
opponent
No.
4
7
9
15
2

Ryusei Ishimura

(7-dan)
Nihon University
Victory
or
Defeat
8
JPN

Shiori Mukoyama

(4-dan)
Ritsumeikan University
13
Game
opponent
No.
11
8
16
4
2

Takayasu Hasegawa

(6-dan)
Ritsumeikan University
Victory
or
Defeat
9
JPN

Kaho Ninomiya

(6-dan)
Waseda University
12
Game
opponent
No.
9
16
10
1
2

Taikan Togo

(7-dan)
Hosei University
Victory
or
Defeat
10
HUN

Julia Seres

(1-dan)
Budapest Business School
8
Game
opponent
No.
5
13
15
10
2

Peter Marko

(4-dan)
Eotvos Lorand University
Victory
or
Defeat
11
TPE

Hu Shih-Yun

(6-dan)
National Chung Cheng University
7
Game
opponent
No.
1
14
11
9
2

Tsai Tang-Yu

(6-dan)
Tamkang University
Victory
or
Defeat
12
USA

Jenna Jansen

(1-dan)
MiraCosta College
10
Game
opponent
No.
16
6
12
8
1

Norman Tsai

(6-dan)
University of California, Los Angeles
Victory
or
Defeat
13
UK
RUS

Joanne Leung

(2-dan)
King's College London
9
Game
opponent
No.
12
5
14
7
1

Alexander Vashurov

(5-dan)
Peter The Great Saint-Petersburg Polytechnic University
Victory
or
Defeat
14
THA

Sasapon Jomhong

(1-dan)
Rattana Bundit University
6
Game
opponent
No.
3
10
5
11
1

Panupat Ditthee

(3-dan)
Thammasat University
Victory
or
Defeat
15
SIN

Ho Li Ting

(2-dan)
Nanyang Technological University
5
Game
opponent
No.
8
9
6
2
1

Poh Song Yu

(1-dan)
National University of Singapore
Victory
or
Defeat
16
ARG

Julieta Pestarino

(12-kyu)
University Torcuato Di Tella
11
Game
opponent
No.
13
15
7
6
0

Luciano Salerno

(2-dan)
Universidad del Salvador
Victory
or
Defeat
Asia
China
Zheng Lu

(6-dan)
Nankai University

Sha Xingyu

(6-dan)
Shanghai International Studies University

Ouyang Yizhuo

(5-dan)
Shanghai University of Finance and Economics

Sui Zexiang

(6-dan)
Shanghai University of Finance and Economics
Korea
Lew Seunghee

(6-dan)
Soongsil University

Choi Inhyeok

(6-dan)
Myeongji University

Jang Yunjeong

(5-dan)
Sehan University

Park Jongwook

(6-dan)
Myeongji University
Singapore
Ho Li Ting

(2-dan)
Nanyang Technological University

Poh Song Yu

(1-dan)
National University of Singapore
Thailand
Sasapon Jomhong

(1-dan)
Rattana Bundit University

Panupat Ditthee

(3-dan)
Thammasat University
Chinese Taipei
Hu Shih-Yun

(6-dan)
National Chung Cheng University

Tsai Tang-Yu

(6-dan)
Tamkang University
Europe
Hungary
Julia Seres

(1-dan)
Budapest Business School

Peter Marko

(4-dan)
Eotvos Lorand University
UK & Russia
Joanne Leung

(2-dan)
King's College London

Alexander Vashurov

(5-dan)
Peter The Great Saint-Petersburg Polytechnic University
North America
USA
Jenna Jansen

(1-dan)
MiraCosta College

Norman Tsai

(6-dan)
University of California, Los Angeles
Central and South America
Argentina
Julieta Pestarino

(12-kyu)
University Torcuato Di Tella

Luciano Salerno

(2-dan)
Universidad del Salvador
Japan
Kaho Ninomiya

(6-dan)
Waseda University

Taikan Togo

(7-dan)
Hosei University

Shiori Mukoyama

(4-dan)
Ritsumeikan University

Takayasu Hasegawa

(6-dan)
Ritsumeikan University

Chihiro Akutsu

(5-dan)
Chuo University

Ryusei Ishimura

(7-dan)
Nihon University

Karin Tsukada

(6-dan)
Ritsumeikan University

Minoru Ozeki

(7-dan)
Senshu University

Yu Konagai

(6-dan)
The University of Tokyo Secondary School attached to the Faculty of Education

Keigo Takashima

(6-dan)
Toin Gakuen